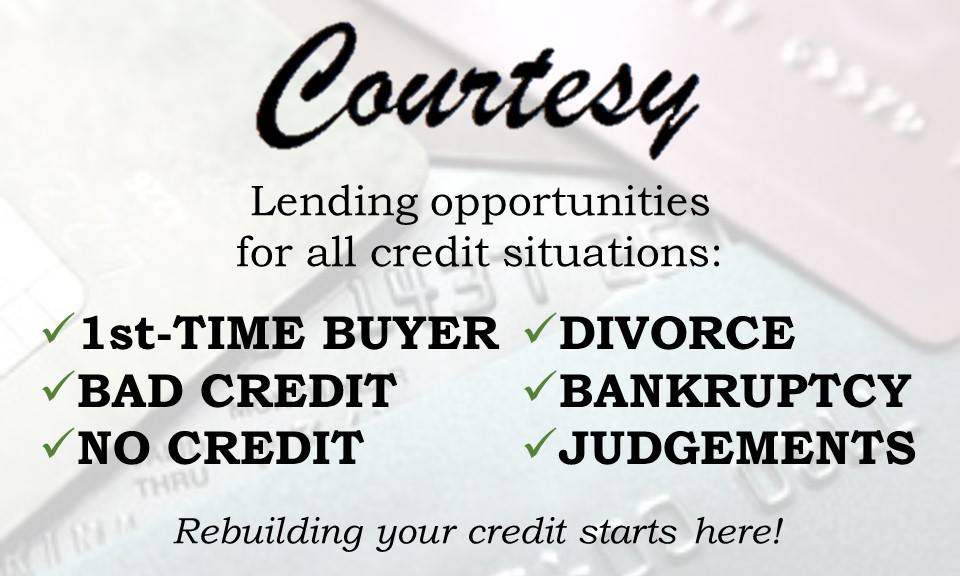 Ever Wish You Could Get A Fresh Start?
If your credit is less than perfect or you have no credit history at all, you understand how difficult it can be to get an auto loan. You've finally found the right vehicle, only to be told that "you don't qualify" or "you're not approved" and then sent on your way.
We know that bad credit can happen to the best of people and just because you don't have the greatest credit doesn't mean you can't have your transportation needs met with a high-quality new or used car. We know how troublesome credit can be, and whether you have no credit or bad credit, we are here to help!
The common misconception is that drivers with no credit or who have a low score are not eligible for financing to get the
new
or
pre-owned
vehicle you deserve. To prove that this is simply not true, visit us to talk about your lease and loan options for that Ford, Lincoln, Kia, Chrysler, Dodge, Jeep, Ram, or Nissan that you've always dreamed of!
Fill out our financing app to start the qualifying process today!
Our
staff
understands how difficult it can be to rebuild your credit after it has suffered, and we also know that your credit score does not define you. This is why our financing team is prepared to discuss your options to help not only provide you with a new or used vehicle, but to also help you get back on track to improving your score. There are enough options to give you hope in your quest for a vehicle, because our Altoona, Hollidaysburg, Duncansville, Tyrone, Bellwood, and State College customers can't be without reliable transportation. Life does not have a pause button, but luckily, there are ways for you to still get what you need with lease or loan terms that are right for you.
We help drivers with all types of financial backgrounds - no credit, bad credit, recently divorced, or have filed for bankruptcy - because life happens and sometimes you just need a helping hand.  We treat everyone like family here at Courtesy, and it only makes sense to extend our dedicated customer care to the Finance Department, where we'll help everyone just the same. Our financing experts can help you get a loan to purchase a new vehicle, which in turn can help you build your credit score in the right direction as you pay it off.
Be sure to browse our inventory of
new
and
used
models to get an idea of what you are looking for, then contact our
staff
here at Courtesy in Altoona, PA to discuss your financing options. We believe that our customers deserve a second chance when it comes to your credit score, so why not work with people who are committed to your financing improvement?
Visit us
today to discover what we can do to help you get on the road to better credit. 
How To Get A Car Loan With Bad Credit / No Credit
Having bad credit shouldn't be the only thing standing between you and your new vehicle. It doesn't mean that you can't get a car loan, only that you need to work with a specialized lender that can customize a loan to suit your situation. These lenders are usually small and are able to offer loans which meet your individual needs.
Fortunately, Courtesy maintains close relationships with a variety of banks, meaning we can arrange a great car loan for you - no matter what your credit situation looks like.
Apply For a Car Loan Online Today
At Courtesy, we understand that applying for a loan when you have less than ideal credit can feel uncertain; that is why we provide a simple and secure auto loan credit application that can be completed online. We believe that our Altoona, Hollidaysburg, Duncansville, Tyrone, Bellwood, and State College area customers deserve second-chance financing if they need it.
Apply for financing today and start shopping for a quality new or used vehicle here at Courtesy!
Bad Credit is Only a Setback
Bad credit is not an ideal situation for car buyers, but it is important to understand that bad credit is only a minor setback for people needing to get behind the wheel of their own reliable forms of transportation.
Many dealerships only work with lenders that approve buyers with average or above average credit, leaving bad credit buyers out in the cold. Here at Courtesy, we understand that a credit score does not define the person it belongs to, which is why we are more interested in you as a person, and not your credit score.
Facts About Bad-Credit Car Loans
Whether you have lived your life up to this point with above-average credit, or you have struggled with poor credit throughout your entire adult life, it is important to understand the basics regarding bad-credit car loans. Taking time to understand the process can better equip you to acquire a reasonable loan, and protect you from getting taken advantage of by less-than-ethical dealerships. Take the following information into consideration before you head out to acquire a car loan with bad credit, and be sure to talk to the experts at Courtesy first.
Small Selection of Dealers and Lenders
While there are plenty of dealers that offer bad-credit car loans in Pennsylvania, you won't be able to walk into a dealership at random and buy a car. It is important that you find a dealership that specializes in these types of loans, and that the one you choose is known for providing reputable services to bad-credit car buyers. Courtesy has served the Altoona area for over 50 years, and is proud to continue our commitment to helping everyone get behind the wheel of a reliable car, regardless of their past financial history.
The best financing offers are reserved for those with the highest credit scores, so you'll need to understand that it's simply not possible for a lender to give you the same offer with bad credit. Because bad credit is a signal of risk for lenders, higher interest rates are common when applying for a bad credit auto loan.
For instance, according to Experian, one of the three major credit bureaus, interest rates will increase dramatically depending on your credit score. Car buyers with a score of 601-660 can expect to be offered loans with average interest rate of 9.29%. If your score drops between 501 and 600, that rate jumps to an average of 15.72%. And if your score is currently 500 or below, you're likely to see rates around 19% on average. Be prepared to pay a higher rate than individuals with an unblemished score, but take it as an opportunity to turn your past credit woes around.
Bad-Credit Car Buying Advice
Jumping into car buying head first can be reckless, especially if you're trying to buy a car with bad credit. Coming in with a plan will not only make the process less painful, but will also ensure you leave Courtesy happy with your purchase.
Have a Down Payment Ready
A down payment, whether it's $500 or $5,000, shows lenders that you're serious about buying a car, and making regular on-time payments. Typically, larger down payment amounts result in lower interest rates, so consider saving up before you buy a car with bad credit. Here at Courtesy, a down payment is not mandatory to secure a car loan, but it will certainly help lower the rates associated with your loan agreement.
Plan Out an Affordable Monthly Payment
When considering any car purchase, it is important to stay within your financial means. This is especially true of buyers with bad credit. Prior to coming into Courtesy, consider your current monthly income, outgoing bills, and other expenses you are responsible for each month. Use all of this information to arrive at a monthly payment you are comfortable with paying, and stick to it.
Buy the Car You Need More than Want
Buying a new-to-you car is an exciting time, even when you are burdened with bad credit. It is important not to get carried away with extra amenities and features, however. Rather than choose a high-end model with all the bells and whistles, opt for a car that is both reasonable, and accommodating to your needs. After you successfully pay off your bad-credit car loan, you (and your credit score) will be in a better position to purchase a vehicle with more of what you want.
A Bad-Credit Loan From Courtesy Can Help
With bad-credit car loans, Altoona residents are not only able to purchase reliable transportation but also work their way to better credit. With consistent, on-time payments, the credit bureaus will associate you with less risk for lending. With each on-time payment, your credit score will gradually increase until it is back to where it should be.
Courtesy is a unique dealership in the Altoona area that specializes in dealing with people who have bad credit. At Courtesy, we do not believe that bad credit should prevent someone from getting the auto loan for the vehicle they need. 
Hours
Monday

9AM - 9PM

Tuesday

9AM - 9PM

Wednesday

9AM - 9PM

Thursday

9AM - 9PM

Friday

9AM - 9PM

Saturday

9AM - 6PM

Sunday

Closed
Make an Inquiry
* Indicates a required field